| | | | |
| --- | --- | --- | --- |
| What is Awin? and how to join them? | | | |
---
To celebrate our invitation from Shareasale to the parent company Awin, I am writing this article to let you know more about the Awin company. What they are doing, and how I can become a partner and make money with them. The Awin.



This is an email that the Shareasale company invites me to join their parent company Awin with an invitation code to bypass the $5 fee sign-up.



Awin is the most extensive affiliate marketing network. They provide technical support, payment organization, and aid in the collaboration between affiliates (publishers) and merchants (advertisers) from within our network.

Awin has been Driving sales for our partners since 2000 with award-winning affiliate marketing solutions and exceptional service. Zanox and Affiliate Window were rebranded in March 2017 to become one global network, Awin.

In September 2017, Awin merged with a longstanding European competitor. Awin company affiliate program has provided publishers, advertisers, and agencies with sophisticated, performance-driven solutions since 1997. Since then, local Awin and Affilinet teams have integrated. Following a successful first year as part of the Awin Group, Affilinet is now operating under the Awin brand. This is an essential milestone in the unification of two companies, strengthening Awin's proposition in its major European markets. Awin now comprises 13,000 advertisers and 100,000 active sales publishers making sales in 180 countries worldwide, facilitated by over 1,000 employees in 15 offices worldwide. Every 24 hours, 260 affiliates join our network. In the last 12 months, we've generated 13.6 billion Euros in revenue for our advertisers. We offer a robust and consistent approach to affiliate marketing, sharing local best practices globally and continuing to elevate standards. We are affiliate marketing. For more information or to get in touch, visit their website at awin.com.





First, understand what a publisher is.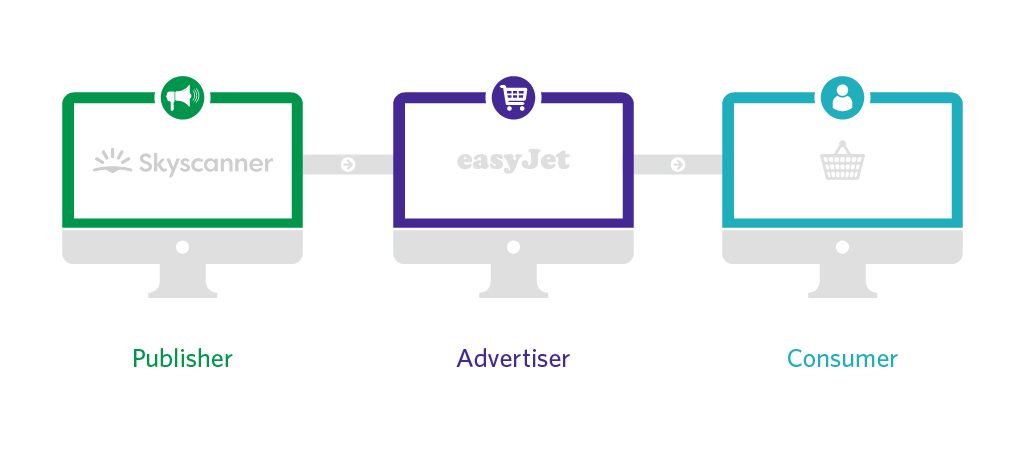 There are four parties involved in affiliate marketing:
Publisher
The person or company who promotes the advertiser's product online. Other names include affiliate, marketer,


and affiliate marketer. You're maybe a traditional publisher, mass media partner, blogger, vlogger, owner of a page on social media, or share content with an audience online. You can become an Awin affiliate.

Advertiser
The advertiser is a website or company that rewards publishers for promoting their products/brand on their own website, generally on a CPA basis. Other names include merchant, seller, brand, retailer, and vendor.

Affiliate network
A network acts as an intermediary between publishers and advertisers. It provides the tracking technology, account management tools, and support required to run performance marketing programs & campaigns. You may also hear them as an affiliate marketplace or Performance Marketing Network.

Customer
The person who ultimately makes a purchase in the advertiser store. Other names include buyer, consumer, shopper, or client.

In recap:

An advertiser is someone who has a product to sell
A publisher is someone who advertises products
A customer is someone who buys the product
An affiliate network connects publishers with advertisers looking to promote their products or services
Other terminology you will come across includes:

Affiliate program
Also known as an advertiser program. The advertiser sets the program, which the publisher then promotes.

Affiliate tracking
The unique coding tells the advertiser who to pay the commission to.

Second, How to join Awin as a publisher.


Please note that Awin requires a one-off 5 GBP/USD/EUR refundable security deposit to join the network. It will be paid back to you in your first commission payment or if you choose to close your account. Once approved on the Awin web, you can apply to join individual Advertiser programs and create trackable affiliate links.


To start the sign-up process, please visit this link. You will be guided through a registration wizard. Each section is explained in detail below:



Account set up

Please complete the details:


Company Name
If you don't have a company, fill in the name of your site. For example, the name of your blog.

Tax Residency
First Name
Last Name
Email
Confirm Email
Password
Confirm Password
Promotional Type
Select your Primary Region
Select the Promotional Type that best describes your online activity. Ensure one is selected as your Primary Promotional Type. The main Type headings listed are Content, Display, Email, and Search. Read our article What is a promotional type, and what should I select as a promotion type? If you are unsure what type of publisher you are.
Promotional Spaces
Promotional Space URL
Add in your URL / Social Media page. Please be aware this needs to be accessible for public viewing. If your site is not yet live, please add an alternative URL until this launches and provide details within the description.

Description
Write a description of your website and Provide as much information about your site as possible, including any exciting features it may have and the methods you will be using to advertise to Awin's advertisers. Please also inform us if your site is still under construction.

Sectors
Choose the industry (s) relevant to your site. Finance & Insurance, Retail & Shopping, Telco & Services, and Travel options.

Verification

Complete the details:


Country
Flat
Building Number
Street Name
City/Town
County
Postcode
Telephone Number

Then select the verification method: Invitation Code or Online Payment. The following article describes why we require a sign-up fee: Why do I have to pay the sign-up fee?


Invitation Code: add the invite code if you have one.
An invitation code is used to bypass the sign-up fee. This is given out by advertisers who wish to invite specific publishers to their program within Awin. I got the invitation code from the Shareasale company, which they are a part of the Awin company.

If an advertiser has not given you an invitation code, please proceed with the standard registration process, which requires a sign-up fee of 5 EUR/GBP/USD (or equivalent) as a part of our security check. Please note that the fee merely serves as a deposit and will be refunded into your account on your first payment run, provided you meet your minimum payment threshold.
Online Payment
Pay a small deposit using one of the accepted online payment methods. See the following article to see what payment methods are accepted: What payment method should I use for the registration?.

Registration Successful

You will see a notice on your screen to say "Registration Successful."




Approval Process

Your application will be reviewed by the Publisher Services Team. A member of the Publisher Services team may contact you by email to request more information regarding your application if you have not provided enough for it to be accepted. This can take a few days.

Once approved, you will receive an email from Awin (Note: check your spam inbox if you have not seen the email in your primary inbox). Click on the link inside the email to activate your User Registration. Please note that this activation link will expire after 30 days.



Get Started

Log in to your Publisher account at http://ui.awin.com using the email address and password you signed up with.


PXTiep, PXTiep.com, Tiep.ga and Thao Am Private Enterprise are among the federally registered trademarks of Pham Xuan Tiep and may not be used by third parties without explicit permission. The display of third-party trademarks and trade names on this site does not necessarily indicate any affiliation or the endorsement of P.X. Tiep. If you click an affiliate link and buy a product or service, we may be paid a fee by that merchant.

---